Search:
Manufacturers

|

Categories
The Express Box was designed to provide a quick and easy solution when it is necessary to provide interfacing for two commentators, with simple facili...
Availability: 7-14 days
1 360 €
1 632 € incl. VAT
The Glensound Talent Box is the next generation of single unit commentary systems. Digital in both control and internal audio circuits with extended p...
Availability: 7-14 days
from 2 790 €
3 348 € incl. VAT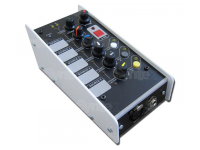 Using a Talent Remote will give the centre B commentator a fully featured set of controls that are not available on the main unit. 
Availability: 7-14 days
447 €
536 € incl. VAT