Search:
Manufacturers

|

Categories
ZBrush is a digital sculpting and painting program that has revolutionized the 3D industry with its powerful features and intuitive workflows. Built w...
Availability: 3-5 days
from 740 €
888 € incl. VAT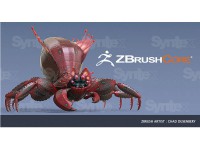 Modeled to fit your creative needs! Whether your experience level is a lot or a little, ZBrushCore is so natural to use that it's almost like modeling...
Availability: phone
from 140 €
168 € incl. VAT