Audio mixing, leveling, and delay combined
Datavideo's delay and audio level box AD-200 combines audio delay and audio mixing/leveling into a 1U product. The AD-200 combines the AD-100 audio delay box and several features from the AM-100 audio mixer into a versatile unit that can be installed in an OB-Van or a customized rack. The AD-200 provides matrix mapping, audio mixing, audio leveling and audio delay. With this device, audio mixing becomes easy. With audio matrix mapping, the end-users can design their own audio in and audio out sequence. The clear OLED display makes the AD-200 very user friendly.






Audio delay
The AD-200 supports up to 3 seconds of delay with independent settings for each of the inputs. The unit comes with 6 XLR balanced inputs, with levels switched between Mic and Line. Audio Matrix mapping function helps users design their own audio in & audio out sequence. Apart from two groups of master outputs, an independent headphone monitoring section is also provided.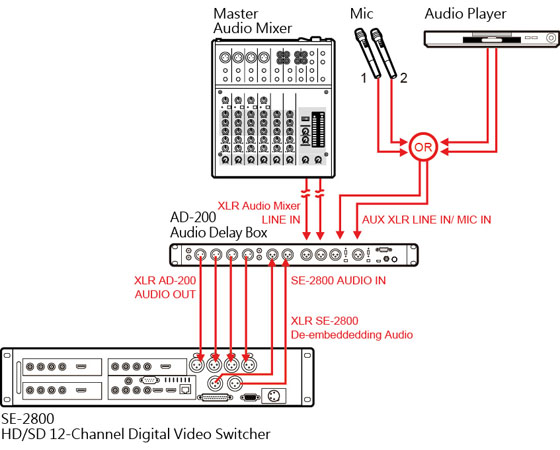 Unique design
Unique two piece design places the remote control close to the operator and the audio I/O at a convenient place for the technical staff. For solo users with many mic and cable changes, it is possible to put the I/O module in front of the rack, too.