Trend volby aktivních reproduktorů pro monitoring je založen na velmi rozumné logice. Díky integraci odpovídajícího zesilovače a reproduktorů, může mezi nimi být vztah pod dokonalou kontrolou a to v důsledku nabízí vynikající výkon v nejširším možném rozsahu. Samotné výkonové zesilovače nabízejí nejvyšší kvalitu a na rozdíl od externích zesilovačů, které musí být určeny pro shodu s co nejširším rozsahu různých reproduktorů, tyto jsou navrženy a vyrobeny speciálně pro daný systému basového reproduktoru a tweeteru v konkrétním daném prostoru. Je jedno, kde jsou studiové monitory MSP použity a s jakým zvukovým zdrojem nebo zvukovým zařízením pracují. Víte, že vždy dostanete výhody perfektně sladěného zesilovače a reproduktorového systému. Rozdíl uslyšíte. Zároveň oceníte pohodlí, protože se nebudete muset vypořádávat s externím zesilovačem a kabeláží.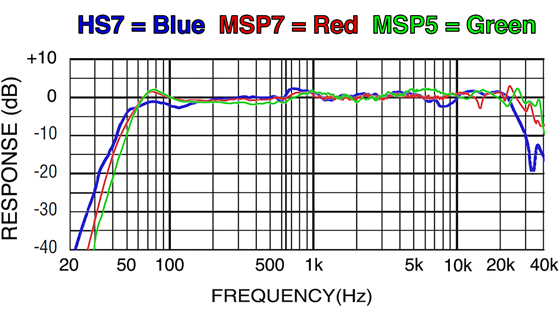 Existuje celá řada výhod sestavy s vícero zesilovači, ale vždy se tak zvyšují nutné náklady a je vyžadováno speciální vybavení, což není v mnoha situacích praktické. Součástí MSP7 STUDIO je vše, co potřebujete - vše, co musíte udělat, je dodat linkový vstup. 6,5 palcový basový woofer je poháněn 80-wattovým zesilovačem a 1 palcový tweeter má vlastní 50-wattový zesilovač. Výsledkem těchto speciálních zesilovačů pro každý reproduktor, je dokonalá rovnováha mezi basy, středy a výškami. Frekvenční rozsahy jsou rozděleny pomocí pečlivě navržený crossoverů před vstupem signálu do zesilovače, s představenou strmostí 30 dB/oktávu, s low- i high-pass filtry. Velmi strmý roll-off minimalizuje modulace mezi frekvenčními pásmy na místě crossoveru, čímž se dosáhne podstatně hladšího a čistší přechodu v kritickém středním pásmu. A skutečnost, že crossover je na úrovni line, zcela eliminuje ztráty, zkreslení a někdy také výraznou modulaci, které jsou téměř nevyhnutelné v konvenčních pasivní crossoverech s jediným zesilovače.
Woofer a tweeter MSP7 STUDIO obsahují některé důležité inovace, které přímo přispívají ke zlepšení zvukové kvality. Například 6,5 palcový basový reproduktor, je vybaven speciálně upravenými, polypropylen kuželem s gumou okolo, pro výjimečně hladkou reakci. Bezodrazový hořčíkový košík maximalizuje přesnost a zároveň minimalizuje nežádoucí zbarvení reproduktoru na výstupu. Na 1 palcových výškových reproduktorech jsou titanové kopule, které nabízejí perfektní kombinaci nízké hmotnosti a tuhosti pro přesnou reprodukci, a to až do 40 kHz. Tyto výškové reproduktory mají silný magnetický obvod, jehož důsledkem je extrémně rychlá odezva pro ostré a přirozené tranzienty. Integrovány jsou s vlnovody, které vysokým frekvencím umožňuje rozptyl 120 stupňů. Přesná výroba velkou měrou přispívá ke skvělému hudebnímu výkonu, stejně jako použitý materiál a design. Například sebemenší odchylka na výškové kopuli a vlnovodech, může zásadně ovlivnit celkový výkon a dojem. To jsou detaily, které vyžadují značné investice energie a potřebu dělat věci správně. A přesně tyto detaily dělají z MSP7 STUDIO vynikající studiový monitor.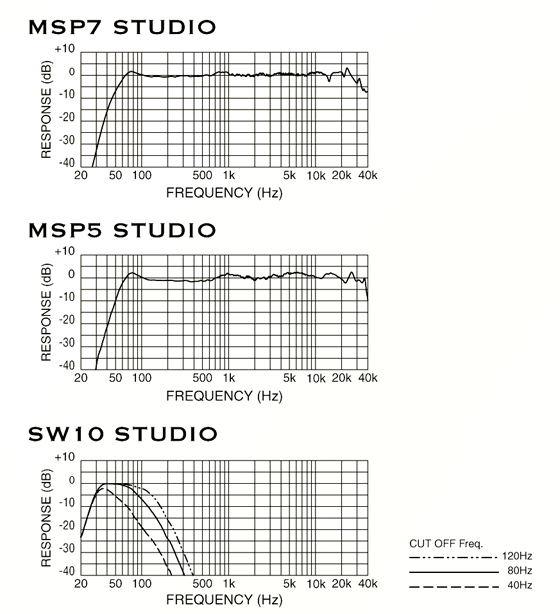 Stejně jako větší MSP7 STUDIO, nabízejí MSP5 STUDIO obousměrný bi-amp bassreflexový systém, která nabízí vynikající přesnost monitoringu pro digitální nebo analogovou produkci ve formátech stereo nebo surround. Vzhledem ke kompaktnějším rozměrům MSP5 STUDIO, jsou tyto ideální volbou pro menší projektová studia a tvůrčí systémy na bázi DAW. MSP5 STUDIO jsou vybaveny 5 palcovým basovým kuželem, napájeným 40 wattovým zesilovačem a 1 palcovým výškovým tweeter kuželem poháněným 27 wattovým zesilovačem. Kromě Jiné velikosti wooferu, velikosti skříně a výstupního výkonu, jimiž se od MSP7 STUDIO liší, využívá MSP5 STUDIO stejných pokročilých materiálů, technologií a designu, které stojí za mimořádným výkonem MSP7 STUDIO. Moderní funkce magnetické struktury stínění, která dosahuje mimořádně nízkého zkreslení, práce reproduktoru s jedinečnou hornou vlnovodu, která dosahuje širokého rovnoměrného rozptýlení vysokých frekvencí na více než 120 stupňů, pro optimální rovnováhu bez ohledu na pozice poslechu. Design - včetně zaoblené ozvučnice - rovněž zajistit hladký a homogenní rozptyl v rámci celého systému v plném rozsahu reprodukce. Díky rovné frekvenční odezvě až do 40 kHz je MSP5 STUDIO skvělou volbou pro mastering, kde jsou normou vysoké vzorkovací frekvence a bitová hloubka.
Subwoofer SW10 STUDIO byl vyvinut speciálně pro optimální sladění s aktivními monitory MSP série. V kombinaci s reproduktory MSP7 STUDIO nebo MSP5 STUDIO ve stereo nebo surround systému, může poskytnout rozšíření do přesného, ultra širokého rozsahu monitoringu. Rozsáhlá nabídka vstupů a výstupů, stejně jako přepínač fáze a kontinuální ovladači high-cut a Level, usnadňuje ovládání a dosažení optimálního výkonu v jakékoliv místnosti a v jakémkoliv systému. Ať už jen míchat základní stereofonní nebo provádíte authoring zvukového DVD v plném surroundu, série MSP STUDIO reproduktorů, spolu s SW10 STUDIO, vám nabídne plnohodnotný monitorovací zážitek.
Yamaha MSP5 Studio
2-pásmový bass-reflexový bi-amp studiový monitor pro blízký poslech
5" basový kužel a 1" titanová vysokofrekvenční kopule nabízí frekvenční odezvu v rozsahu 50Hz-40kHz
67 W (LF 40W + 27W HF) dynamický bi-amp zesilovač
Symetrický XLR a nesymetrický jack 6,3 vstup
31 pozic pro ovládání úrovně umožňuje přesné vyladění celého systému
TRIM ovladač (High/Low)
Kompletní magnetické stínění
Yamaha MSP7 Studio
2-pásmový bass-reflexový bi-amp studiový monitor pro blízký poslech
6,5" basový kužel a 1" titanová vysokofrekvenční kopule nabízí frekvenční odezvu v rozsahu 45Hz-40kHz
130 W (LF 80W + 50W HF) dynamický bi-amp zesilovač
Symetrický XLR vstup
31 pozic pro ovládání úrovně umožňuje přesné vyladění celého systému
Low Cut přepínač a ovladač TRIM (High/Low)
Plný magnetické stínění
Yamaha SW10 Studio
10" bass-reflexový napájený subwooferu poskytuje jasnou odezvu ve frekvenčním pásmu 25Hz-150Hz
180 W dynamický zesilovač
XLR symetrické vstupy (L/R/subwoofer)
XLR symetrické výstupy (L/R/subwoofer) paralelní zapojení se vstupními signály
Ovládání úrovně umožňuje přesné ovládání úrovně systému
40-120 Hz, 80 Hz při ovladačích Center Click LPF
Přepínač fáze zjednodušuje řešení fázových problémů
Kompletní magnetické stínění