Najnovšia verzia sampleru HALion VST pridáva nové funkcie, ktoré posúvajú hranice virtuálneho samplingu a tvorby zvuku. Nové nástroje a zdroje zvuku založené na na prepracovaných syntézach a inovovanom engine, nové efekty, slicing mode a množstvo ďalších doplnkov ktoré ponúkajú nespočetné možnosti a robia z HALion nepostrádatelný nástroj pre profesionálnych hudobníkov, producentov a zvukárov po celom svete. Rozsiahla knižnica zvukov, široká škála nástrojov a špičkových zvukových modulov v kombinácii s užívatelským rozhraním novej generácie - to všetko tvorí z HALion inšpiratívny nástroj, srdce modernej tvorby a zvukovej produkcie.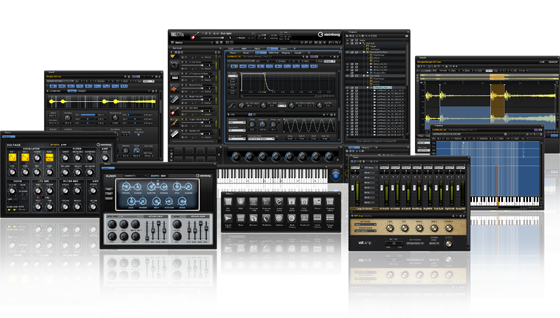 Hlavné znaky:
State-of-the-art sampler vytvorený na mieru požiadavkám profesionálov
Až 192kHz, 32 stereo výstupov a podpora 6 kanálového priestorového zvuku
Výkonný multi-timbrálny audio engine s prehrávaním samplov streamovaných z disku, organ simulátor a hi-end virtuálny analógový a granulárny syntetizátor
Knižnica s viac ako 2500 zvukmi syntetizátorov a úžasných autentických akustických nástrojov
AudioWarp poskytuje funkcie cutting-edge, time-stretching a pitch-shifting
Plná podpora VST Expression 2 umožňuje editovať a artikulovať samostatne každú notu
FlexPhraser modul pre plné beaty, arpeggia a komplecné fráze
MegaTrig pre ľahké programovanie herných štýlov a artikulácií
Široké spektrum hi-end audio efektov, vrátane REVerence konvolučného reverbu, VST Amp simulácií a mnoho ďalších
Flexibilné užívateľské rozhranie s podporou multi-monitor umožňuje prispôsobiť a uložiť vlastné rozloženie pracovnej plochy
Obsahuje plnú verziu HALion Sonic 2
Minimálne systémové požiadavky
Mac OS X
Windows

Mac OS X Version 10.7/10.8

Windows 7/8
Intel Dual Core CPU

Intel Dual Core CPU

CoreAudio compatible audio hardware
Windows compatible audio hardware
VST3 or AU compatible host application for using as plug-in
VST3 or VST2 compatible host application for using as plug-in
4GB RAM
17GB of free HD space
Display resolution of 1280x800 recommended
DVD-ROM dual-layer drive
USB port for USB-eLicenser (license management)
USB-eLicenser (not included)
USB-eLicenser nieje dodávaný. Užívatelia, ktorý nemajú USB-eLicenser musia zakúpiť samostatne. Rovnaký USB-eLicenser je používaný ku všetkým produktom Steinberg, ktoré ho vyžadujú.
HALion 5 - podporované formáty pre import
| | | | |
| --- | --- | --- | --- |
| Formát | | Typ súboru | Poznámka |
| AIFF | mono/stereo | .aiff/.aif | |
| AIFF | multichannel | .aiff/.aif | |
| AKAI | S-1000 | CD-ROM | only ISO |
| | S-3000/Mesa | CD-ROM, .s3p, .sp | only ISO |
| | S-5000/S-6000 program | .akp | |
| APPLE | Apple Loop | .aiff/.aif | |
| EMU | Esi | .esi | |
| EXS24 | EXS24 mkI | .exs | |
| | EXS24 mkII | .exs | |
| GIGASTUDIO | Gigastudio 1-2.5 | .gig | |
| | Gigastudio 3 | .gig | Excluding encrypted content |
| HALion | HALion 1/2 Program | .fxb & .fxp | |
| | HALion 3/4 | .fxb & .fxp, HSB | |
| Kontakt | Kontakt 1-4.1 | | Excluding encrypted content, scripted content & containers |
| KURZWEIL | K2000/K2VX | .krz | |
| | K2500 | .k25 | |
| | K2600 | .k26 | |
| RECYCLE | REX 1 | .rex | |
| | REX 2 | .rx2 | |
| SOUND DESIGNER 2 | mono/stereo | .sd2 | |
| SOUNDFONT 2 | Soundfont 2 | .sf2 | |
| WAV | mono/stereo | .wav | |
| | multichannel | .wav | |