Vysoká obrazová kvalita
Filmaři od náhledových monitorů požadují vysoké rozlišení, věrnou barevnou reprodukci, široké pozorovací úhly, a také možnost pracovat za vysoké hladiny okolního osvětlení. Monitory PIX-E americké značky Video Devices vynikají ve všech těchto aspektech díky špičkovým IPS LCD obrazovkám s rozlišením 1920x1080 (5" varianty) a 1920x1200 (7").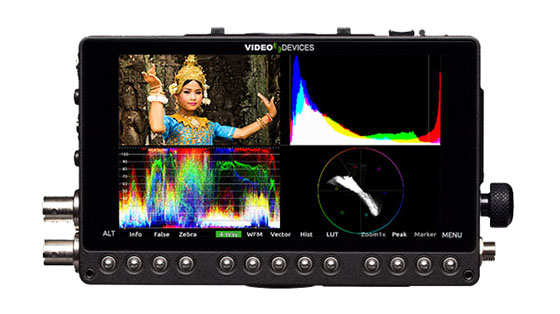 PIX-Assist
Funkce PIX-Assist zahrnují užitečné nástroje pro monitorování a měření video signálu. Na výběr jsou LUT tabulky, zobrazení vlnového průběhu, vektorskop, histogram, funkce TapZoom, peaking, zebra, falešné barvy, vodítka nebo čtyřnásobné zobrazení Four Way View.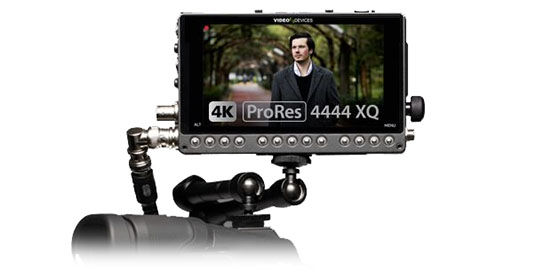 TapZoom
Kontrola zaostření nebyla nikdy snazší! Funkce TapZoom zprostředkovává okamžitý náhled se zvětšením 2x nebo 4x po rychlém poklepání na displej. Opětovné klepnutí na displej tuto funkci deaktivuje.

Záznam 4K videa
Monitory PIX-E slouží také k záznamu 4K a HD videa ve vysoké kvalitě a jako první na trhu nabízejí kompletní podporu kodeků Apple ProRes, včetně maximálně kvalitního režimu Apple ProRes 4444 XQ (pouze u modelů PIX-E5 a PIX-E7). Tento 12bitový kodek byl navržen pro záznam s vysokou úrovní obrazových detailů a s širokým dynamickým rozsahem, jaký produkují moderní obrazové snímače digitálních filmových kamer. Produkty PIX-E mohou zaznamenávat 4K/UHD video se snímkovou frekvencí až 30 fps, resp. HD video (1080p nebo 720p) rychlostí až 60 fps.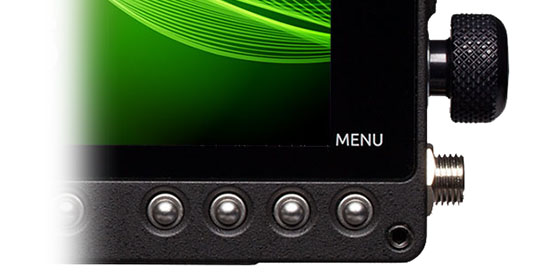 SpeedDrive
Záznam videa je realizován na cenově dostupné moduly SpeedDrive, které obsahují standardní SSD disky s rozhraním mSATA v proprietárním pouzdře. Disky SpeedDrive se připojují přímo k displejům PIX-E nebo k počítačům, a to pomocí rozhraní USB 3.0. Není tedy nutné používat další adaptéry nebo drahé speciální kabely. Disk SpeedDrive je v prodeji ve dvou variantách: jedna nabízí předinstalovaný 240GB disk, druhá obsahuje pouze pouzdro a dovoluje nainstalovat mSATA disk dle vašeho výběru.

Dotykové funkce i tlačítka
Některé funkce se lépe ovládají dotykově přímo na displeji, jiné je ideální aktivovat reálnými tlačítky. Produkty PIX-E nabízejí to nejlepší z obou světů. Dotykové funkce slouží k přímé interakci se zobrazeným videem (TapZoom apod.), tlačítka slouží např. ke spouštění záznamu, aniž by je operátor musel hledat a kontrolovat, zda byla žádaná operace skutečně provedena.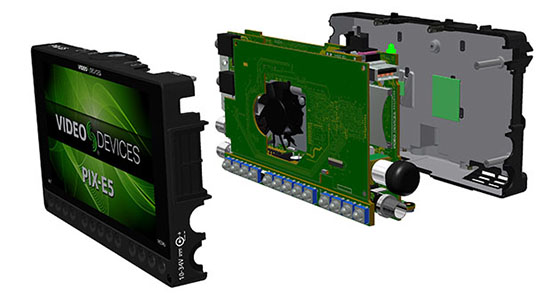 Pevná konstrukce
Tělo je odlito z pevné kovové slitiny, neméně odolné jsou i použité konektory nebo ochranná vrstva LCD obrazovky "Gorilla Glass 2". Monitory/rekordéry PIX-E byly navrženy pro práci v nehostinných podmínkách natáčecích lokací a při jejich výrobě zužitkoval výrobce všechny zkušenosti z dlouholeté tvorby oblíbených audio rekordérů a pultů Sound Devices. Monitory PIX-E jsou napájeny z externích zdrojů stejnosměrného napětí (10-34V) nebo z akumulátorů Sony L-mount. Díky dvěma slotům pro baterie lze výměnu za čerstvě nabité provádět za běhu přístroje.